Thank you for your interest in ⧉SneakPeek Suite v.2.1
For some years, the motto "1 image is worth more than 1000 words .." has accompanied the development and features of this new powerful Web Marketing Platform, which today is the only one that allows you to cut your costs for classic services for example, as external URL to Image or URL to PDF.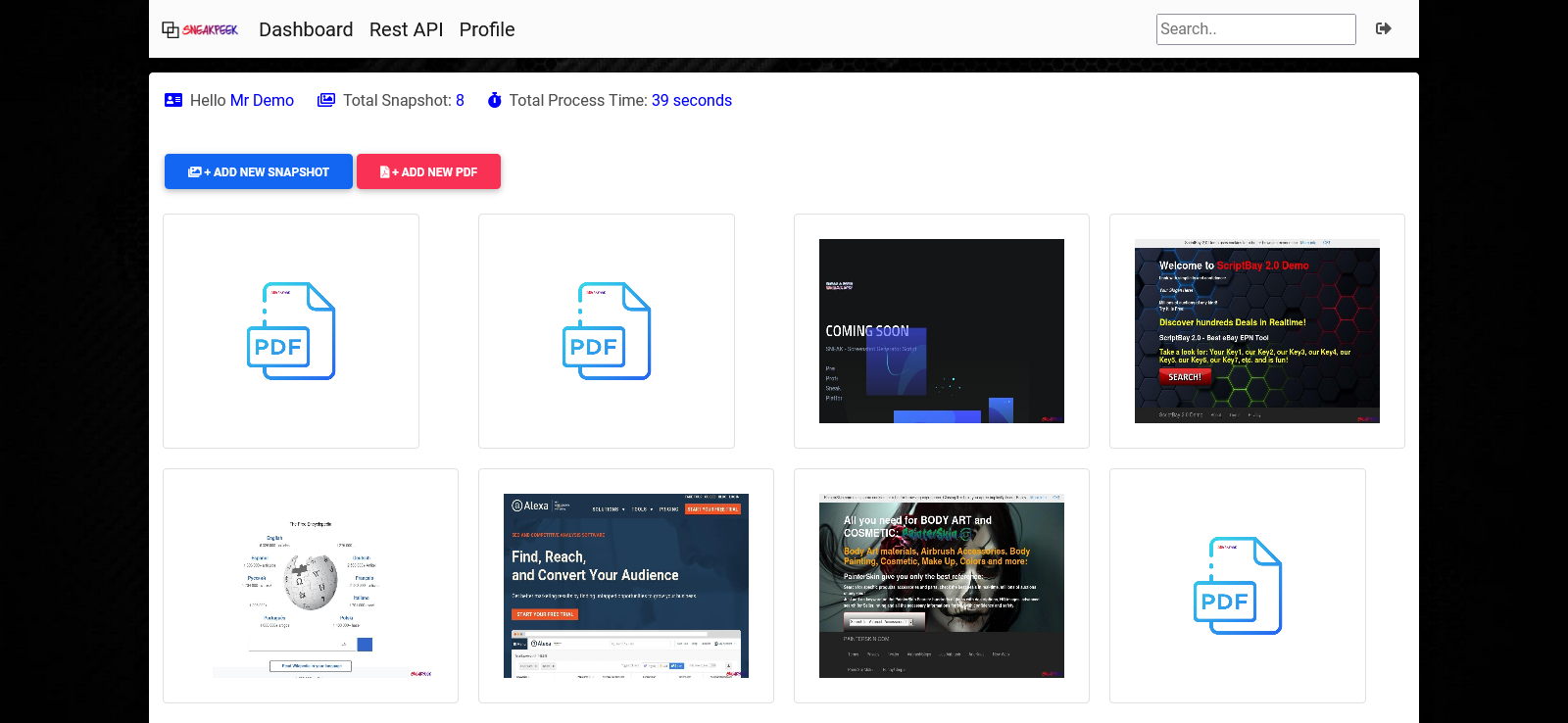 With ⧉SneakPeek Suite, not only will you have powerful tools at your disposal such as a rest API with personal token for creating Snapshots in a flash for all your websites or those of your Customers.
You will add value to your content with customized website previews, the size and quality of the thumbnails with your logo or Brand.
With a section dedicated to example codes, to copy and modify according to your needs, it has become even easier to use and integrate on other platforms, such for example, as WordPress sites, thanks to the Dedicated WP Plugin included, or the function – Multi User – (addon sold separately) to allow your Team to have a personal profile for your or your customers. You can even have a Backup system of all your files on – Dropbox – (addon sold separately), or why not … start a new online business that offers this type of service with the external HTML Form (included)!
Note: ⧉SneakPeek is a standalone platform, it needs Wkhtmltopdf installed and active on your Server (not shared Hosting).
For proper functioning. Read the specs here.
Thanks to the simple and comprehensive documentation, you will be able in a few steps to have at your disposal a series of Professional tools!
⧉SneakPeek is already an excellent Suite for personal use or for Webmasters who want and can give something more to their Users.
Now you can enrich your script with extra functions according to your needs; there is no point in spending big bucks to get the best possible result!
⧉SneakPeek is a Modular Platform with distinct functions: configure it only as you need and eventually, add new features at a later time, if necessary.
In this package:
– ⧉SneakPeek v.2.1 Web Thumbnail Suite
  Single User with Landing Page and html Form
– WordPress Plugin
– Documentation
Demo: https://45h.it/Try
Changelog
⧉SneakPeek Suite v2.1 – 2022
– Added html Screenshot form page
– Update Documentation
– Included new WordPress plugin v.2.0
– Fix some bugs